Endoscopy procedure and definition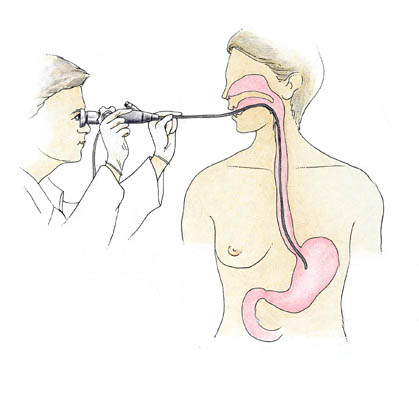 The collective term for minimally invasive procedures that allow the doctor to view internal organs and structures using a lighted, flexible scope inserted through a natural body opening or through a small incision. Endoscopy can be diagnostic or therapeutic. Most endoscopic procedures require preparation before the procedure, sedation during the procedure, and supervised recovery after the procedure.
The primary risks of endoscopic procedures are minimal, consisting of primarily INFECTION or bleeding that results from unintended ABRASIONS to the tissues. A very rare but serious complication of endoscopic procedures of the bowel is perforation, in which the endoscope goes through the wall of the bowel. This requires surgical repair and ANTIBIOTIC MEDICATIONS to prevent PERITONITIS. Most people return to full and regular activities the day after diagnostic endoscopy and within a few weeks after endoscopic operations.
See also ANTIBIOTIC PROPHYLAXIS; ARTHROSCOPY; BRONCHOSCOPY; CANCER PREVENTION; CYSTOSCOPY; MINIMALLY INVASIVE SURGERY; SURGERY BENEFIT AND RISK ASSESSMENT.
Open discussion on the topic Endoscopy procedure and definition