Minimally Invasive Cardiac Surgery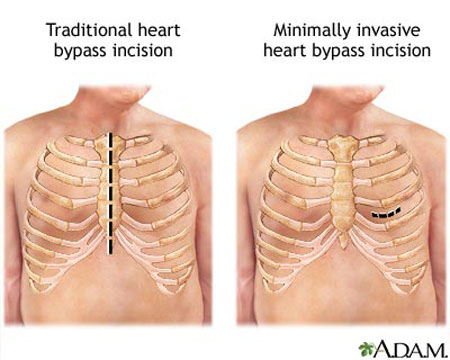 What is Minimally Invasive Cardiac Surgery
Minimally Invasive Cardiac Surgery is Surgical methods that combine ENDOSCOPY and CARDIAC CATHETERIZATION to repair damaged HEART valves or clear obstructive ATHEROSCLEROTIC PLAQUE. Some methods involve making several small incisions in the chest and between the ribs to gain access to the heart. Others involve inserting microscopic tools, via cardiac catheterization, into the heart. There remain questions as to whether minimally invasive cardiac surgery is of greater or lesser risk than OPEN HEART SURGERY.
Though significantly less traumatic, minimally invasive cardiac surgery restricts the surgeon's ability to see the condition of the heart. Minimally invasive cardiac surgery done "off-pump" (without CARDIOPULMONARY BYPASS), further challenges the surgeon's ability to operate on a moving target. Countering these concerns are the reduced trauma to the chest because the STERNUM (breastbone) can remain intact, as well as avoiding the risks of cardiopulmonary bypass. Recovery is much more rapid and significantly less painful than with traditional open heart surgery. However, the surgeon cannot reach the back of the heart using minimally invasive procedures, limiting the value of these methods for treating CORONARY ARTERY DISEASE (CAD) that involves the posterior CORONARY ARTERIES.
See also MINIMALLY INVASIVE SURGERY; POSTOPERATIVE PROCEDURES; PREOPERATIVE PROCEDURES; SURGERY BENEFIT AND RISK ASSESSMENT.
Open discussion on the topic Minimally Invasive Cardiac Surgery