Echocardiogram procedure/test - heart/cardiac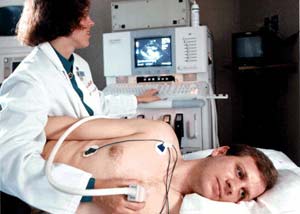 What is Echocardiogram
Echocardiogram is a noninvasive, diagnostic ULTRASOUND examination of the HEART that can show the heart's structure and, when combined with Doppler technology, the flow of BLOOD through the heart's chambers and the CORONARY ARTERIES. Echocardiogram is most effective for evaluating VALVULAR HEART DISEASE and structural malformations of the heart such as major congenital deformities, septal defects, and patent ductus arteriosus (PDA).
There is no preparation for a echocardiogram, which uses soundwaves to create visual images. For a transthoracic echocardiogram (TTE), the ultrasonographer places a small amount of gel on the SKIN of the chest to improve contact with the transducer, the device that sends and receives the sound signals. The ultrasonographer then moves the transducer over the surface of the skin. For a transesophageal echocardiogram (TEE), the ultrasonographer numbs the back of the THROAT and passes a narrow cable with a transducer at the tip down the throat into the ESOPHAGUS. A TEE places the transducer as close as possible to the heart, usually to obtain specific images such as to detect septal defects or certain valve malformations.
A computer converts the sound signals into two- or three-dimensional images. Typically the cardiologist does an ELECTROCARDIOGRAM (ECG) at the same time, to correlate the visual images from the echocardiogram with the heart's electrical activity. Sometimes the cardiologist will combine the echocardiogram with an injection of dye, administered intravenously, to better highlight the inner structures of the heart. Echocardiogram or TTE takes 10 to 20 minutes and there is no recovery time necessary after the procedure. People undergoing TEE generally receive sedation before the procedure begins so go to a recovery area after the TEE until fully awake from the sedative and the cardiologist is satisfied there will be no adverse effects.
See also ANGIOGRAM; COMPUTED TOMOGRAPHY (CT) SCAN; CONGENITAL HEART DISEASE; MAGNETIC RESONANCE IMAGING (MRI).
Open discussion on the topic Echocardiogram procedure/test - heart/cardiac