Heart Rate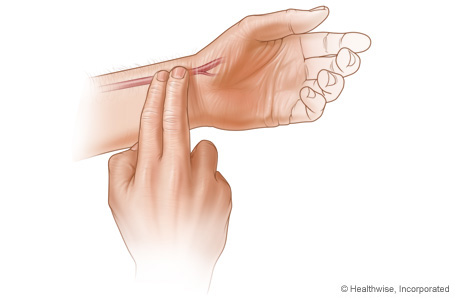 What is Heart Rate and Definition
Heart Rate is the number of times in a minute that the HEART completes a CARDIAC CYCLE, commonly measured as the PULSE. At rest, the healthy adult heart beats between 60 and 80 times per minute. The heart rate of a person who is aerobically fit is slower because the heart is more efficient and can pump more blood with each contraction. CARDIOVASCULAR DISEASE (CVD) that reduces CARDIAC CAPACITY often results in an increased heart rate as the heart attempts to compensate for decrease in volume per beat. An unusually rapid heart rate at rest is tachycardia; an unusually slow heart rate at rest is bradycardia. Noncardiac health conditions also can affect heart rate. Heart rate may increase with HYPERTHYROIDISM and decrease with HYPOTHYROIDISM. Other factors that increase heart rate include physical activity, stress, fear, and FEVER.
An aerobically fit heart can increase its pumping volume at a lower increase in heart rate to meet the body's oxygen needs during physical activity or exercise. The heart's maximum heart rate is the upper limit of cardiac function and declines with increasing age. Health experts recommend physical activity for aerobic conditioning that puts the heart rate between 25 and 75 percent of maximum heart rate for 20 to 30 minutes. An individual's target heart rate varies according to AEROBIC FITNESS level. The most effective method for reaching and staying within the target heart rate during exercise is to use a heart monitor, which counts the heartbeats of the person wearing it.
See also AEROBIC EXERCISE; AEROBIC FITNESS; ARRHYTHMIA; EXERCISE AND HEALTH; FITNESS LEVEL; PHYSICAL EXERCISE AND CARDIOVASCULAR HEALTH; WALKING FOR FITNESS.
Open discussion on the topic Heart Rate