Pulmonary fibrosis - symptoms, diagnostic and treatment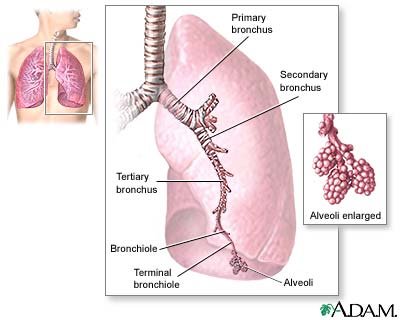 Pulmonary fibrosis is a condition in which SCAR tissue replaces normal tissue in the alveoli, reducing the ability of the LUNGS to oxygenate the BLOOD. Many conditions of the lungs result in fibrosis, notably CYSTIC FIBROSIS and occupational PNEUMOCONIOSIS. Pulmonary fibrosis may also be idiopathic-that is, develop without an identifiable cause. Once the process of fibrosis begins in the lungs, it tends to be progressive. In many people the progression takes place over decades, resulting in slow decline of pulmonary function. Clubbing of the fingers is a characteristic indication of chronic HYPOXIA (insufficient oxygen reaching the tissues) such as results from pulmonary fibrosis.
Symptoms of pulmonary fibrosis include
persistent dry COUGH
DYSPNEA (shortness of breath) that worsens with exertion
diminishing capacity for physical activity
fatigue
chest tightness, discomfort, or PAIN
Pulmonary Fibrosis Diagnosis
The diagnostic path includes chest X-RAY, pulmonary function tests, and arterial blood gases. The pulmonologist may conduct additional imaging procedures, such as COMPUTED TOMOGRAPHY (CT) SCAN, to further assess structural changes in the lungs. BRONCHOSCOPY and lung biopsy may be necessary to rule out CANCER or to identify pathologic changes that characterize specific diseases.
Treatment Pulmonary Fibrosis
Treatment depends on the underlying cause, if the diagnostic path can identify one. Generalized treatment may include CORTICOSTEROID MEDICATIONS to reduce INFLAMMATION, bronchodilator medications to relax and open the airways, and cough suppressants to relieve nonproductive coughing. These methods control symptoms and improve BREATHING in many people who have pulmonary fibrosis, especially in the early and middle stages of the condition. However, progressive pulmonary fibrosis typically results in RESPIRATORY FAILURE for which LUNG TRANSPLANTATION may be the only viable treatment option.
See also BRONCHIECTASIS; CHRONIC OBSTRUCTIVE PULMONARY DISEASE (COPD); CYSTIC FIBROSIS AND THE LUNGS; INTERSTITIAL LUNG DISORDERS; NAILS.
Open discussion on the topic Pulmonary fibrosis - symptoms, diagnostic and treatment