Adenocarcinoma (type of cancer)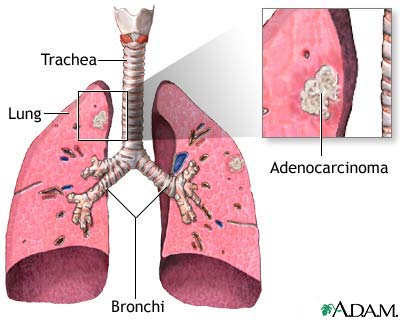 Adenocarcinoma is a type of cancer that arises from the endothelial cells of glandular structures. Adenocarcinoma is the most common type of cancer to occur in the PROSTATE GLAND (PROSTATE CANCER), gastrointestinal tract (ESOPHAGEAL CANCER, STOMACH CANCER, PANCREATIC CANCER, LIVER CANCER, COLORECTAL CANCER), and endocrine glands (TESTICULAR CANCER, OVARIAN CANCER, THYROID CANCER). Adenocarcinoma begins as a benign (noncancerous) tumor, an adenoma. Over time, GENE mutations in the cells of the adenoma may cause the tumor to transition to an adenocarcinoma. Adenocarcinomas can involve numerous organs and tissues.
See also BLASTOMA; CARCINOMA; ENDOCRINE GLAND; FAMILIAL ADENOMATOUS POLYPOSIS (FAP); HEREDITARY NONPOLYPOSIS COLORECTAL CANCER (HNPCC); INTESTINAL POLYP; LEUKEMIA; MUTATION; SARCOMA.
Open discussion on the topic Adenocarcinoma (type of cancer)