Sarcoma cancer and types of sarcoma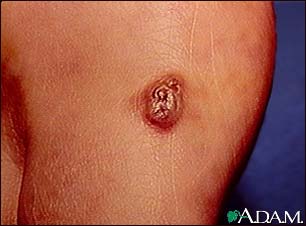 Sarcoma Cancer that arises from connective tissue such as BONE, TENDON, CARTILAGE, fat, MUSCLE, and other soft tissues. Sarcomas may also develop within the walls of BLOOD vessels, which contain connective tissue. Treatment generally combines surgery to remove the tumor with RADIATION THERAPY or, less commonly, CHEMOTHERAPY. Radiation exposure, such as occurs with radiation therapy for other cancers or with accidental or industrial exposure, increases the risk for sarcoma.
TYPES OF SARCOMA
Tumor
Location
chondrosarcoma
CARTILAGE
dermatofibrosarcoma
SKIN
fibrosarcoma
fibrous connective tissue (fibroblast proliferation)
hemangiosarcoma
BLOOD vessel
KAPOSI'S SARCOMA
connective tissue of skin, mucous membranes, organs
leiomyoma
smooth MUSCLE, such as the UTERUS
liposarcoma
fatty tissue
neurofibrosarcoma
nerves
osteosarcoma
BONE
synovial sarcoma
synovial membrane of a JOINT
See also ADENOCARCINOMA; BLASTOMA; CARCINOMA; LIPOMA; NEUROFIBROMATOSIS; SURGERY FOR CANCER.
Open discussion on the topic Sarcoma cancer and types of sarcoma