Cisterna chyli - function and definition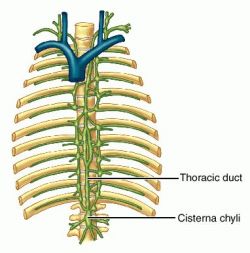 Cisterna Chyli is a saclike structure of the lymphatic system, located behind the STOMACH, that collects LYMPH draining from the abdomen, notably the gastrointestinal region, and the lower body. The cisterna chyli empties into the THORACIC DUCT.
For further discussion of the cisterna chyli within the context of blood and lymph structure and function please see the overview section "The Blood and Lymph."
See also LYMPHEDEMA; LYMPH VESSELS; RIGHT LYMPHATIC DUCT.
Open discussion on the topic Cisterna chyli - function and definition