Thiamine - vitamin B1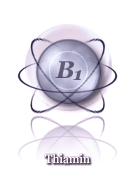 Vitamin B1, an important contribution to a healthy metabolism and proper functioning of the nervous system. Thiamine is a key member of the B vitamins and moderate deficiency of this vitamin can cause health implications. Thiamine is sold as a single vitamin, but it is preferable to use the B complex, because it works closely with other B vitamins

The most common application of vitamin B1

Vitamin B1 (thiamine), supports the conversion of energy, helps maintain healthy nerves, may improve mood, strengthens the heart and soothes indigestion.
Open discussion on the topic Thiamine - vitamin B1