Allergen - what is, definition and Common Allergens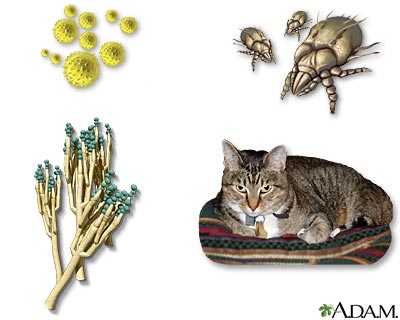 What is Allergen and definition
Allergen - a harmless substance, also called a hapten, that causes an exaggerated response from the IMMUNE SYSTEM called a HYPERSENSITIVITY REACTION. For reasons researchers do not fully understand, the immune system produces antibodies for the substance that result in the IMMUNE RESPONSE perceiving the substance as a foreign invader. When the allergen contacts or enters the body, the antibodies attack it. Nearly any substance can be an allergen. DESENSITIZATION is a treatment for allergies that exposes the person to progressive doses of the allergen to increase the body's tolerance for the presence of the allergen and diminish the hypersensitivity reaction.
Common Allergens
COMMON ALLERGENS
almonds animal
dander
aspirin (salicylates)
bee stings
cashews
cockroaches
dust and dust mites
eggs
fish
fragrances and perfumes
fungi
grasses
lanolin
latex
milk
molds
nickel
peanuts
pecans
penicillin
pollens
shellfish
smoke
strawberries
SOY
sulfa
wheat
See also ALLERGY; ALLERGY TESTING; ANAPHYLAXIS; ANTIBODY; ANTIGEN; ASTHMA; LIVING WITH ALLERGIES; MULTIPLE CHEMICAL SENSITIVITY SYNDROME.
Open discussion on the topic Allergen - what is, definition and Common Allergens