BALT - bronchus-associated lymphoid tissue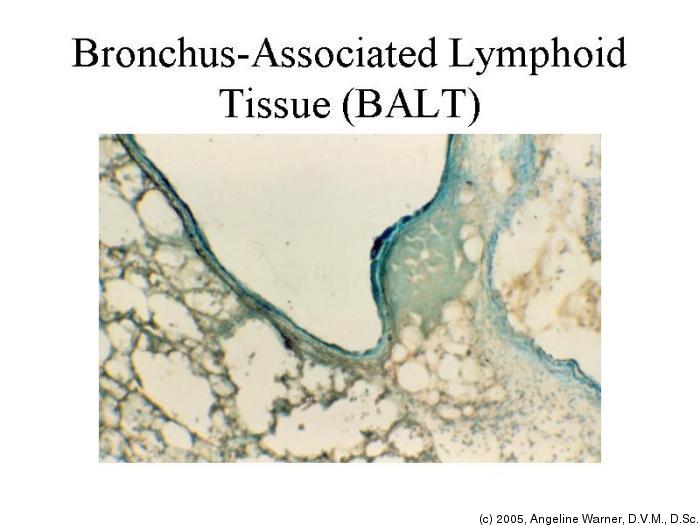 What is BALT - bronchus-associated lymphoid tissue
Bronchus-associated lymphoid tissue (BALT) - Loosely organized clusters of LYMPH tissue beneath the epithelium (tissue that forms the mucous lining) of the bronchi (inner airways) in the LUNGS. These clusters of lymph tissue have preventive, protective, and cleanup responsibilities within the IMMUNE RESPONSE. They contain
macrophages and dendritic cells, which are phagocytic cells that consume the debris of pathogens other leukocytes (white BLOOD cells) kill
T-cell lymphocytes, which destroy PATHOGENbearing cells
B-cell lymphocytes, which produce the ANTIBODY IMMUNOGLOBULIN A (IgA), that helps keep BACTERIA and viruses from adhering to mucous tissues, such as the lining of the nasal sinuses and the bronchi
M cells (folded, M-shaped cells that engulf pathogens and transport them to phagocytes), which participate in the various stages of ANTIGEN dispensation
Bronchus-associated lymphoid tissue (BALT), like collections of accessory lymphoid tissue elsewhere in the body, reinforces the presence of the IMMUNE SYSTEM in areas where the body is vulnerable to invasion of pathogens (viruses, bacteria, and other potentially harmful substances). A specific role of BALT is to provide an extra layer of immune protection to block or limit access by viruses that cause infections specific to the lungs, such as INFLUENZA and PNEUMONIA.
For further discussion of BALT within the context of the structures and functions of the immune system, please see the overview section "The Immune System and Allergies."
See also BRONCHUS; CELL STRUCTURE AND FUNCTION; GUT-ASSOCIATED LYMPHOID TISSUE (GALT); LEUKOCYTE; LYMPHOCYTE; MACROPHAGE; MUCOSA-ASSOCIATED LYMPHOID TISSUE (MALT); NOSE-ASSOCIATED LYMPHOID TISSUE (NALT); PHAGOCYTE; PHAGOCYTOSIS; SKIN-ASSOCIATED LYMPHOID TISSUE (SALT); VIRUS.
Open discussion on the topic BALT - bronchus-associated lymphoid tissue