Immune system - what is and definition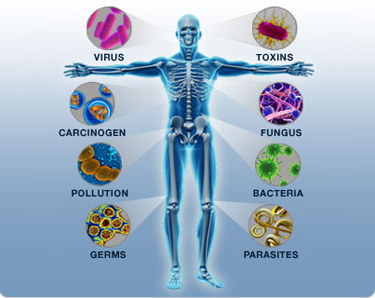 Immune system - The structures, substances, and processes that protect the body from INFECTION. These include organs, tissues, cells, and molecules. The immune system functions in close collaboration with the NERVOUS SYSTEM and the endocrine system.
The main organs and tissues of the immune system include
BONE MARROW
lymph nodes
adenoids and tonsils
tears
saliva
The primary cells of the immune system include
B-cell lymphocytes (PLASMA cells, memory Bcells)
T-cell lymphocytes (helper T-cells, cytotoxic Tcells, memory T-cells, suppressor T-cells)
granulocytes (neutrophils, eosinophils, and basophils)
macrophages and dendritic cells
mast cells
monocytes
M cells
natural killer (NK) cells Key molecules of the immune system include
complement factors
IMMUNOGLOBIN
antigens
antibodies
CYTOKINES (CHEMOKINES, INTERLEUKINS, MONOKINES, INTERFERONS, LYMPHOKINES, COLONY-STIMULATING FACTORS [CSFS], and TUMOR NECROSIS FACTORS [TNFS])
For further discussion of the structures and functions of the immune system, please see the overview section "The Immune System and Allergies."
See also ANTIBODY; ANTIGEN; ANTIBODY-MEDIATED IMMUNITY; B-CELL LYMPHOCYTE; CELL-MEDIATED IMMUNITY; COMPLEMENT CASCADE; GRANULOCYTE; IMMUNE RESPONSE; LYMPH NODE; LYMPHOCYTE; MACROPHAGE; MAJOR HISTOCOMPATIBILITY COMPLEX (MHC); MONOCYTE; NATURAL KILLER (NK) CELL; PSYCHONEUROIMMUNOLOGY; T-CELL LYMPHOCYTE.
Open discussion on the topic Immune system - what is and definition