Prostate health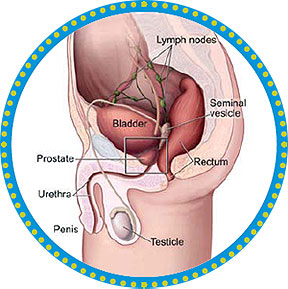 What is Prostate health
Prostate health - Measures a man can take throughout his life to maintain healthy function of his PROSTATE GLAND. The prostate gland, which wraps around the URETHRA at the base of the BLADDER, produces the primary volume of SEMEN, the fluid that carries SPERM out of the body during EJACULATION, and the enzyme PROSTATE-SPECIFIC ANTIGEN (PSA), which thins the semen to permit sperm motility. The prostate gland functions unobtrusively through most of a man's life. In early to mid-adulthood the most significant risk to prostate health is INFECTION (PROSTATITIS), which may be due to the spread of a sexually transmitted disease (STD) such as GONORRHEA or may result from non-STD causes.
In late midlife and beyond the prostate gland begins to slowly enlarge, a natural aspect of aging. Doctors call the enlargement BENIGN PROSTATIC HYPERPLASIA (BPH). For about half of men over age 60 BPH becomes significant enough to constrict or obstruct the urethra (the tubelike structure that drains URINE from the bladder), causing symptoms of urinary obstruction such as URINARY FREQUENCY and hesitation. With increasing age the risk for PROSTATE CANCER, the most serious health condition affecting the prostate gland, also increases.
Dietary and lifestyle measures may slow the progression of both BPH and prostate cancer. Foods that support prostate health include
SOY (soybeans, soy protein, tofu, tempeh)
tomatoes and tomato-based foods such as tomato sauce and tomato paste, which contain LYCOPENE
pink grapefruit and watermelon, which also contain lycopene
cruciferous vegetables (broccoli, cauliflower, cabbage, kale), which contain sulforaphane and other isothiocyanates, substances that appear to help prostate gland cells fight cancer
A number of studies show the herbal remedy SAW PALMETTO can improve the symptoms of mild to moderate BPH, apparently by shrinking the prostate gland tissues. Some studies show a correlation between high BODY MASS INDEX (BMI) and more aggressive prostate cancers, and other studies demonstrate a lower risk for cancer overall (as well as CARDIOVASCULAR DISEASE and DIABETES) with healthy body weight and regular physical exercise. In the United States, preventive health-care recommendations call for PSA BLOOD level measurements and DIGITAL RECTAL EXAMINATION (DRE) as part of a man's ROUTINE MEDICAL EXAMINATION beginning around age 50. These tests may detect abnormal function or size of the prostate gland that could be early indications of BPH or prostate cancer.
See also AGING, REPRODUCTIVE AND SEXUAL CHANGES THAT OCCUR WITH; CANCER PREVENTION; DIET AND HEALTH; EXERCISE AND HEALTH; LIFESTYLE AND HEALTH; PREVENTIVE HEALTH CARE AND IMMUNIZATIONS; SEXUAL HEALTH; URETHRITIS; WEIGHT LOSS AND WEIGHT MANAGEMENT.
Open discussion on the topic Prostate health