Andropause in men - symptoms and treatment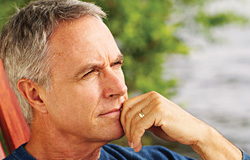 What is Andropause in Men and Symptoms
Andropause - a term sometimes used to describe the physical and emotional changes men experience at midlife. The amount of TESTOSTERONE, the primary male sex HORMONE, in a man's BLOOD circulation begins to slowly and steadily decline after reaching its peak in the early to middle 20s. By age 75, testosterone levels are typically about half of what they were at age 25. Though this is still an adequate level of testosterone to maintain masculinity, the decline accounts for some of the physical changes characteristic of midlife in men: conversion of MUSCLE to fat, redistribution of body fat, and sometimes diminished energy and LIBIDO (sex drive). Some men experience clinical DEPRESSION, loss of BONE mass, ERECTILE DYSFUNCTION, and other symptoms as a consequence of lower testosterone levels. Some researchers believe the decline in testosterone levels contributes to the increased risk for HEART ATTACK as a man gets older.
Andropause Treatment
Doctors may recommend prescription hormone supplementation with ANDROGENS (testosterone or testosterone precursors) for men who have unacceptable symptoms. However, the long-term therapeutic value and possible risks of such treatment remain uncertain. Some men take the over-thecounter product DEHYDROEPIANDROSTERONE (DHEA), available in the United States as a dietary supplement, as an androgen precursor (a substance the body converts to testosterone during its METABOLISM). There are few clinical studies to provide clear evidence of whether this is effective or safe. Some doctors believe as long as the DHEA does not push testosterone levels beyond the normal range, the risk for adverse health effects is minimal. However, other doctors worry that sustained increases in blood testosterone levels in men over age 50 may increase the risk for PROSTATE CANCER and CARDIOVASCULAR DISEASE (CVD).
See also ADRENAL INSUFFICIENCY; AGING, REPRODUCTIVE AND SEXUAL CHANGES THAT OCCUR WITH; ANABOLIC STEROIDS AND STEROID PRECURSORS; HORMONE-DRIVEN CANCERS; MENOPAUSE.
Open discussion on the topic Andropause in men - symptoms and treatment