Manganese sulfate supplement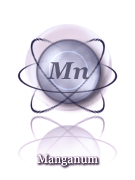 Manganese is a microelement whose regular intake is essential for many organism functions and that helps the organism convert protein and fat into energy. Long term deficiency of this mineral might cause vascular system failure, cholesterol metabolism changes and its storage in blood vessels. This process increases the risk of cardiovascular diseases.
Manganese – utilization
Manganese is essential for healthy vascular system and suppresses storing of LDL cholesterol in blood vessels. This mineral is essential in prevention from osteoporosis and might improve the memory.
Manganese – benefits and effectiveness
Manganese should be comprised in multivitamin and mineral dietary supplements used in order to keep the organism healthy and in a good shape. Manganese is also effective in prevention from cell damaging by free radicals. The manganese insufficiency might induce diabetes process. Manganese is known for its antioxidant effects which stimulate many enzymes allowing the organism to digest food. Manganese also helps the organism to absorb vitamin B1 and vitamin E. In combination with B-complex, manganese helps in therapy of anxiety, depressions and various nerve disorders. Manganese is fundamental mineral for sugar metabolism. Manganese not only increases the effectiveness of vitamin E and B vitamins. Mainly, it intensifies the effectiveness of glucosamine dietary supplements. This process is helpful for patients suffering from arthritis.
Manganese – recommended daily dosage
The recommended daily dosage is 20 to 30 mg of manganese per day. In therapy of heart arrhythmia, use 20 mg of manganese every day. If one experiences heavy backache, he should use 20 mg of manganese per day for two weeks, than lower the dosage down to 10 mg per day. 10 mg twice per day is an effective dose in therapy of osteoporosis.
Manganese – resources
The main resources of manganese are cereals, peas, olives, blueberries, spinach and nuts.
Other natural sources of manganese include avocados, nuts and seeds, seaweed, tea, raisins, pineapple, broccoli, oranges, beans, whole grains, egg yolks, and green leafy vegetables.
Many herbs also contain manganese, such as alfalfa, burdock root, chamomile, dandelion, fenugreek, ginseng, hops, horsetail, lemongrass, parsley, peppermint, wild yam, and raspberry.
Manganese – warnings
The manganese surplus in food might have a negative influence on nerve system and fasten the progress of Parkinson disease. Long term overdosing might theoretically initiate the process of Parkinson disease. If one experiences any health difficulties, he should consult using dietary supplements with his physician.
Manganese – additional information
Vitamin C fastens and simplifies the manganese absorption. On the other hand, ferrum, zinc, or cuprum dietary supplements and excessive dosage of calcium might complicate and slow the absorption.
Open discussion on the topic Manganese sulfate supplement