Parasite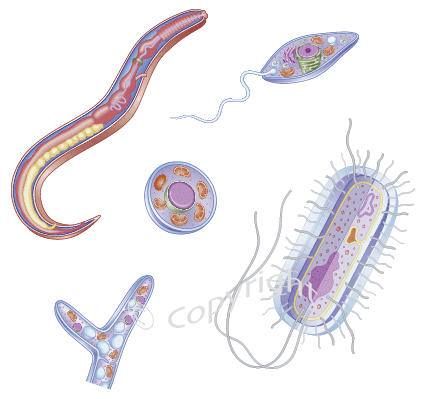 What is a Parasite
Parasite is an organism that requires coexistence with another organism for its survival. The parasite typically draws nourishment and other needs from its host organism without contributing in return to the host's survival. Some parasites can survive away from their hosts for limited periods of time or defined portions of their life cycles. Some parasites are host-specific whereas others can adapt to various hosts.
Pathogenic parasites are those that cause INFECTION and disease. Common pathogenic parasites include flukes, worms, and PROTOZOA (amebas). They may infect the SKIN or migrate to internal organs such as the LUNGS, LIVER, or BRAIN, where they often form cysts. Treatment for parasitic infections and illnesses depends on the parasite and the illness.
People who travel to tropical regions or areas where community sanitation is substandard may acquire parasitic infections otherwise uncommon in their home regions. Many systemic parasitic infections cause gastrointestinal symptoms such as DIARRHEA. These infections are usually contagious, spread through fecal-oral contact (contact with surfaces and substances such as food or water that are contaminated with particles of feces). Diligent PERSONAL HYGIENE, especially HAND WASHING, and appropriate FOOD SAFETY practices are key preventive measures.
See also BACTERIA; FUNGI; MICROBE; VIRUS.
Open discussion on the topic Parasite