Licorice (glycyrrhiza glabra) benefits and DGL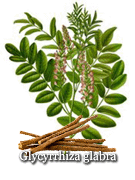 Licorice (glycyrrhiza glabra), tall shrub with blue flowers of the legume family, grown in Turkey and Greece. Its curative properties are stored in the root, which contains glycyrizin. Liquorice is also a source of many other potentially beneficial substances such as phytoestrogens and flavonoids. Spices for therapeutic purposes processed into capsules, tablets, tinctures and creams. It has typical sweet taste stale, so it is commonly combined with other medicinal plants to hide their bitterness. The other form, or deglycyrizinovaná DGL licorice, from which it was removed glycyrizin, is available in capsule or chewable wafers and candy. Both types of licorice have different uses in the body and cause different reactions. Licorice is one of the most popular and best-studied herbal medicine and its history is very long.
The most common application of the liquorice plant (glycyrrhiza glabra)
Licorice (glycyrrhiza glabra) reduces the symptoms of chronic fatigue and fibromyalgia, helps with digestive problems. Licorice also helps heal eczema. Promotes recovery after liver inflammation, increases immunity, reduces inflammation of the respiratory tract and may be useful in menstrual problems, and after menopause.
Open discussion on the topic Licorice (glycyrrhiza glabra) benefits and DGL