Lipoma - treatment, removal and surgery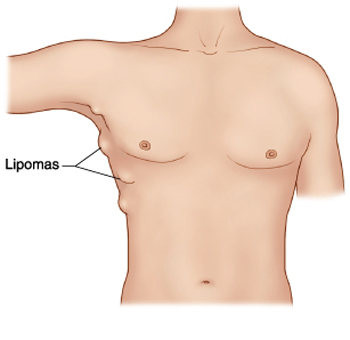 Lipoma is a benign (noncancerous) soft tissue tumor. Lipoma is the most common type of tumor. It arises from adipocytes-fat cells-though can develop in any kind of tissue. Lipomas are particularly common in the MUSCLE, appearing as a small painless lump. A lipoma near the surface of the SKIN feels soft and fairly well defined. Lipoma does not hurt or become cancerous and requires no treatment unless it becomes larger than five centimeters. Large lipomas may be cosmetically unacceptable or cause irritation to the surrounding tissue. The doctor may choose to biopsy or remove a lipoma that occurs in the BREAST or COLON, to be certain of the diagnosis as other kinds of breast and colon tumors may be malignant (cancerous). Lipomas have a tendency to recur after surgery to remove them.
See also ADENOMA; BREAST CANCER; COLORECTAL CANCER; SURGERY BENEFIT AND RISK ASSESSMENT.
Open discussion on the topic Lipoma - treatment, removal and surgery