Myopathy - muscle weakness - definition and treatment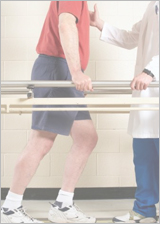 Myopathy - MUSCLE weakness that occurs when muscle cells do not function properly. There are numerous forms of myopathy, many of which are congenital (present at birth) or genetic (the result of inherited GENE mutations). Some myopathies are progressive (become worse with time) and others remain stable. Metabolic disorders, HIV/AIDS, IMMUNE DISORDERS, and ADVERSE REACTION to drugs (including ALCOHOL) may cause myopathies. Treatment targets the cause of the myopathy in acquired myopathy and attempts to relieve symptoms when myopathy is congenital or genetic. Treatment approaches may include medications, PHYSICAL THERAPY, braces or other devices to support weak muscle structures and aid mobility, and MASSAGE THERAPY.
See also CARDIOMYOPATHY; GENETIC DISORDERS; INHERITANCE PATTERN; MITOCHONDRIAL DISORDERS; MUTATION; NEUROPATHY; POLYMYOSITIS.
Open discussion on the topic Myopathy - muscle weakness - definition and treatment