RICE - Rest, Ice, Compression and Elevation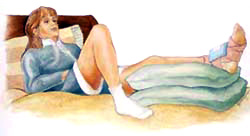 RICE - The acronym for rest, ice, compression, and elevation. RICE is the common first-line therapeutic approach for most musculoskeletal injuries such as SPRAINS AND STRAINS. Rest removes the injured part from the source of the injury. Ice slows the process of INFLAMMATION and eases PAIN. Compression, such as a wrap or brace, provides support so the muscles can relax. Elevation slows the flow of BLOOD through the part, further easing pain, reducing swelling, and enforcing rest.
See also ATHLETIC INJURIES; BURSITIS; FRACTURE; SYNOVITIS; TENDONITIS.
Open discussion on the topic RICE - Rest, Ice, Compression and Elevation