Repetitive Motion Injuries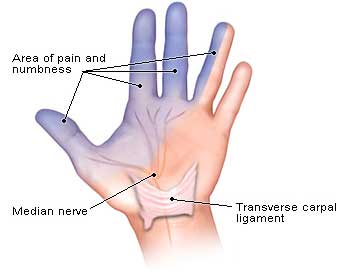 Repetitive motion injuries - Defintion
Repetitive Motion Injuries - Soft tissue injuries that occur as a result of overuse or performing the same motion over and over. Repetitive motion injuries, sometimes called cumulative trauma injuries, may occur as occupational injuries or ATHLETIC INJURIES. The most common repetitive motion injuries are TENDONITIS (INFLAMMATION of a TENDON) and BURSITIS (inflammation of a BURSA). These injuries may develop near any JOINT though are most common in the knees, hips, wrists, elbows, and shoulders.
Symptoms of Repetitive motion injuries
Typical symptoms of repetitive motion injuries are
PAIN and swelling
numbness or tingling
limited range of motion or movement
Repetitive Motion Injuries Diagnosis and Treatment
When establishing the diagnosis the doctor pays particular attention to the personal history of work, recreational, and other activities the individual performs on a regular basis. Diagnostic imaging procedures are usually not necessary. Treatment is rest from the activity that caused the symptoms in combination with NONSTEROIDAL ANTIINFLAMMATORY DRUGS (NSAIDS); heat or cold to the site; and PHYSICAL THERAPY to learn stretching exercises and techniques for lifting, standing, and sitting that support musculoskeletal health.
Poor posture, staying in one position for an extended time, and repeating the same motion without breaking from it are the key risks for repetitive motion injuries. Prevention efforts include frequent changes in posture and position and frequent, short breaks from the repetitious task. This may be as simple as switching hands to perform the task or pausing at regular intervals to stretch the muscles, stomp the feet, roll the neck and shoulders, and shake or wiggle the hands.
See also CARPAL TUNNEL SYNDROME; OCCUPATIONAL HEALTH AND SAFETY; PATELLOFEMORAL SYNDROME; PLANTAR FASCIITIS; ROTATOR CUFF IMPINGEMENT SYNDROME; SYNOVITIS.
Open discussion on the topic Repetitive Motion Injuries