Syndactyly - definition and treatment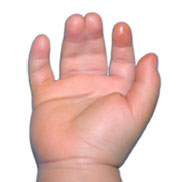 Syndactyly - Fingers or toes that are fused together by connective tissue. Sometimes the fusion is only SKIN (simple syndactyly) and other times the fusion involves MUSCLE, ligaments, and BONE (complex syndactyly). Syndactyly is present at birth and often indicates a genetic disorder with additional symptoms. Most commonly the fusion involves the third and fourth fingers or toes, though sometimes affects multiple fingers or toes. Treatment is typically to separate the fused digits surgically to allow full use of the hand or foot.
See also GENETIC DISORDERS; LIGAMENT; POLYDACTYLY; SURGERY BENEFIT AND RISK ASSESSMENT.
Open discussion on the topic Syndactyly - definition and treatment